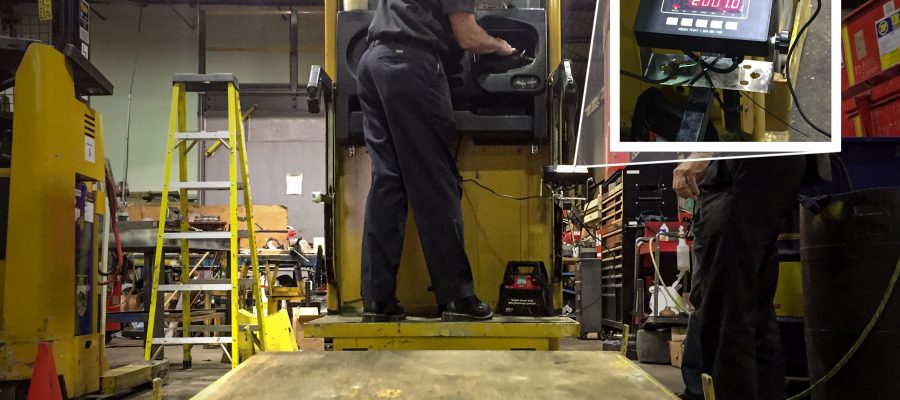 Order picker avoids wireless congestion in busy warehouse
Budgetary Price: $5000-$5500
The Weigh Point WMS Order Picker works as a stand-alone system, on lift trucks and order pickers.  It adapts to fleet operations with elegance yet affordable.  The ROI would be quicker and less complicated than wireless to a server.
The scenario is simple… here's a typical case study.  An automotive parts distributor feeds individual store locations with car parts from a centralized warehouse.
The warehouse generates shopping list indicating ordered product for a specific store.  This list is directed to a picker whom fills the pallet with requested product.  The completed order with confirmed pick results is shrink wrapped and shipped to the store.
The system utilizes the WP WMS scale kit comprising:
1 – Set of lift truck weigh sensed forks
1 – Computerized digital indicator
1 –Label printer
This auto parts distributor was assured that if later expansion plans denoted weigh scale usage through their server that the weigh scale system provided would readily upgrade to server interface by replacing the WP9500 and printer with an appropriate Ethernet indicator and related data configuration. See full scale details here
A detailed look at the operation
Upon receipt of order form, the picker would proceed to pick location of first item. The order form would indicate item SKU#, quantity, part description, theoretical total weight.
With scale initially zeroed, the picker would place items on pallet, optionally compare actual weight with theoretically weight and accept or reject. If no picker interaction desired, then the operator wold print item label and adhere it to appropriate order form line.
Repeat step 2 until order complete, optionally press accumulated weight key and adhere label to completed order form.